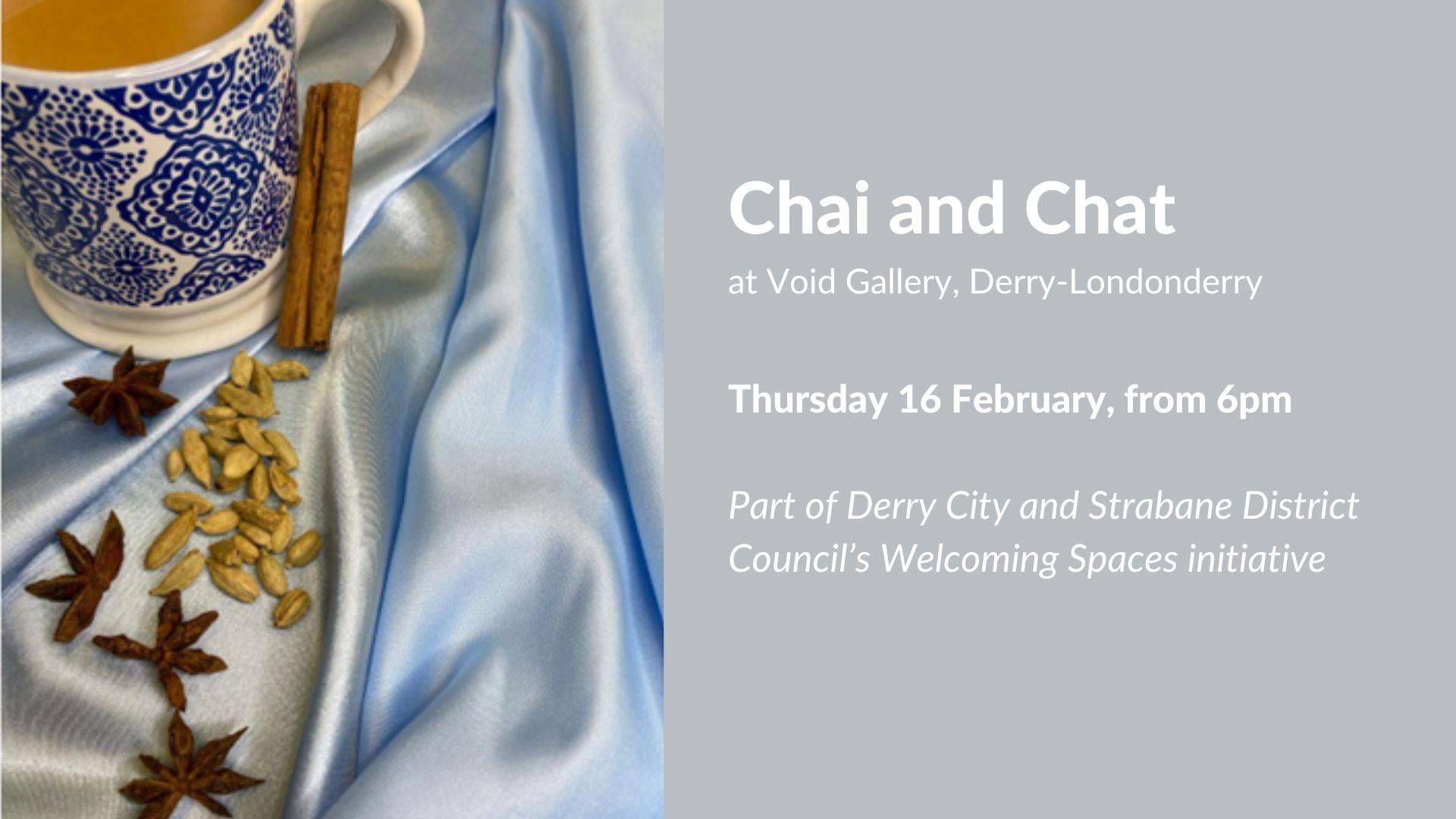 About
Void want Derry's growing multicultural communities to be reflected in their social spaces. So, in February, Void Gallery will debut a new programme called Chai and Chat, in which they will serve Chai (tea) and encourage people to use the gallery as a social meeting space.
An event inspired by the Derry City and Strabane District Council's Welcome Spaces initiative. Their first event will invite Derry women and those who identify as women to the gallery, where their Head of Public Programmes Sara, who is also new to Derry, will brew Chai (tea) for those attending.
"Arriving in Derry for the first time towards the end of 2022, invited an opportunity for me to get to know the local community, but I didn't really know where to start. In my first few weeks in Derry, I listened for various accents and languages and realised how diverse the city was, all intermingled. Drinking tea with someone and learning another man's language are two things that have always helped us break down barriers in society.
Nelson Mandela said: "If you communicate to a man in a language he understands, that goes to his head, when you speak to him in his own language, it touches his heart".
The cold weather fuelled a desire for warmth and connection. Since I didn't feel comfortable going to pubs alone, I looked for sites where people from various walks of life might meet, but I couldn't really locate any.
Chai, which is a name for tea in numerous languages, is made in the Indian subcontinent by blending milk with spiced black tea. It is a staple in my family; and the first thing my mother serves me when I walk in, Chai, is one of the most poignant markers of my Pakistani ancestry. As a sign of hospitality, it creates sentiments of kinship, ties people to their humanity, and brings comfort.
With these considerations in mind, I'd like to invite people to join me for chai at the Void Gallery at various points throughout the year." - Sara Bint Moneer Khan, Head of Public Programmes at Void.