There's lots to discover in Derry~Londonderry. We're a city rich in culture, heritage and history but did you know we're also home to some pretty spectacular parks and beauty spots.
Take a deep dive into Derry's history while also discovering some of our unique landscapes and wonderful outdoor adventures suitable for the whole family. When the time is right to travel again, why not check out some of our nearby *activity parks - where you can enjoy adrenalin fuelled adventures.
Brooke Park
Brooke Park is an eight hectare park, located 1km from the city centre. It runs from Infirmary Road in the South to Rosemount Avenue to the north.
It has been in the heart of city life since 1901 and was recently regenerated.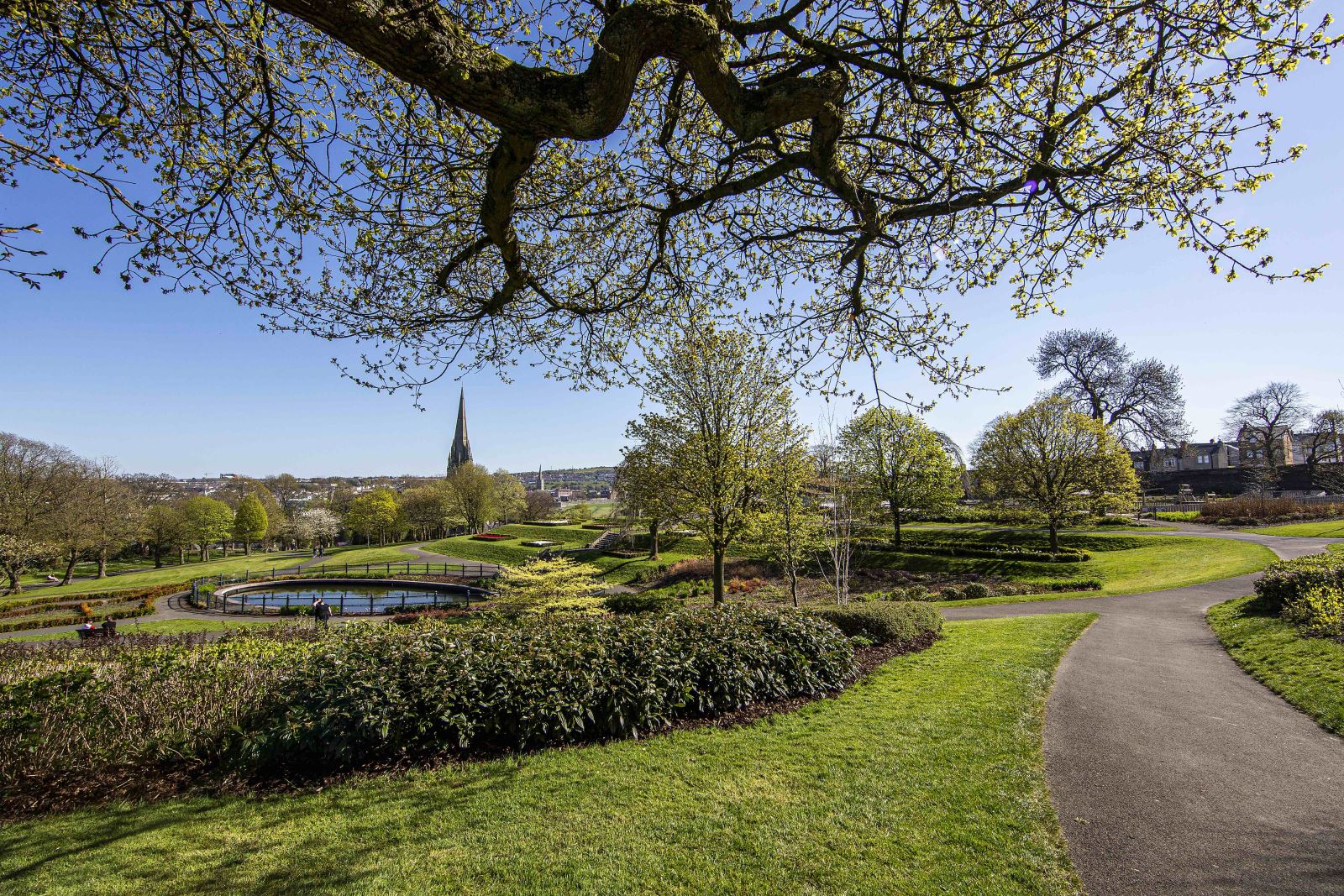 St Columb's Park
St Columb's Park is a 70 acre park located on the Limavady Road. It is named after St Columba, who is the city's patron saint. It contains the ruins of a medieval church, an 18th century manor house as well as many modern amenities such as a leisure centre and sports pitches.
The park can be accessed from the Ebrington (across the Peace Bridge) and has a direct pedestrian cycle path that connects to both the Peace Bridge and Gransha Park.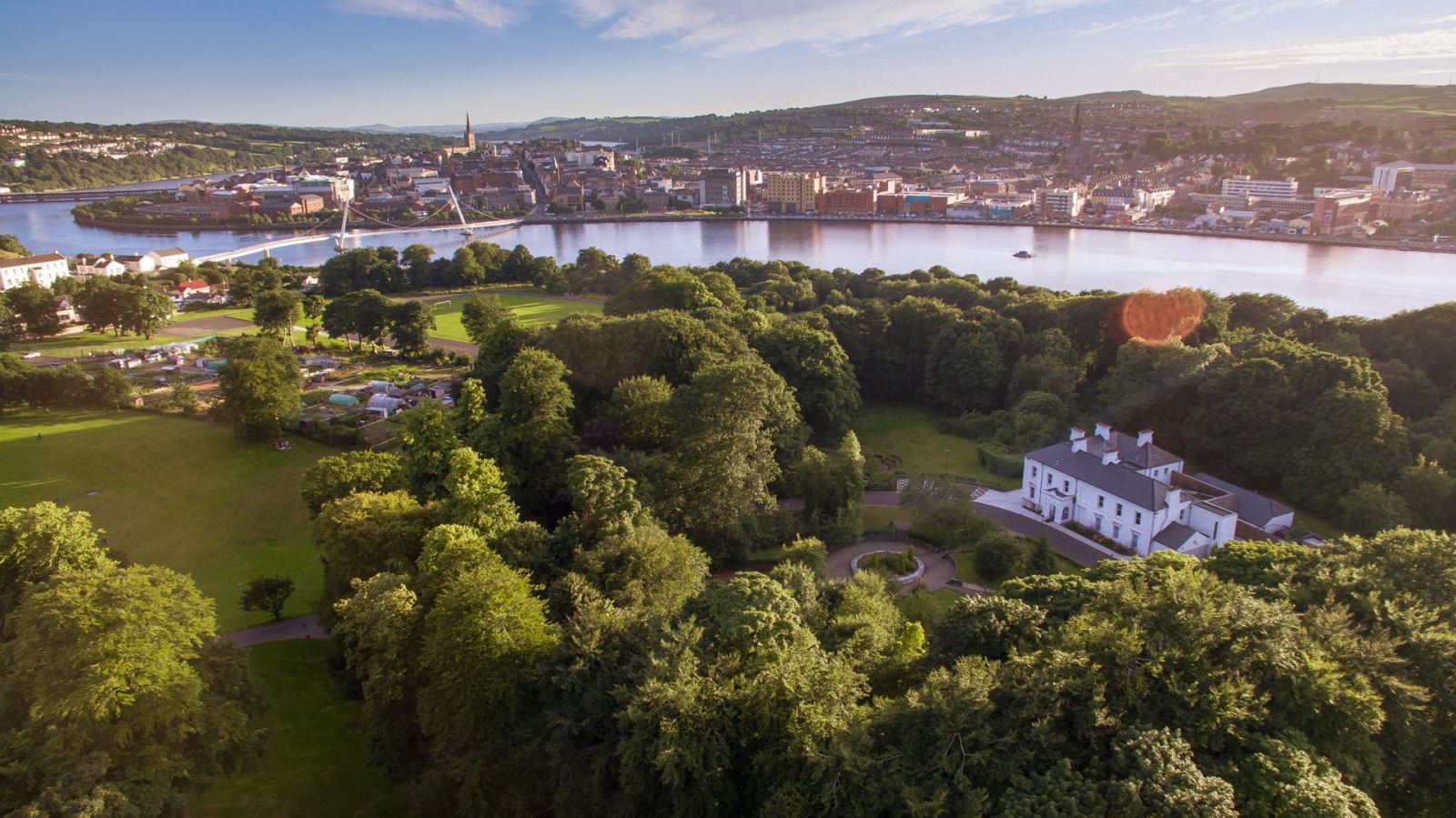 Bay Road Local Nature Reserve
Bay Road Park Local Nature Reserve is located on the banks of the River Foyle. It provides impressive scenery of the Foyle Bridge and the city. It can be accessed from the Foyle Bridge, or from behind Da Vinci's Hotel, off the Culmore Road.
During a visit to the nature reserve, keep your eyes peeled to catch a variety of wildlife in their natural habitats. This includes otters, bats, birds (including six Northern Ireland priority species: redshank, herring gull, song thrush, mistle thrush, starling and bullfinch) and butterflies.
Ballyarnett Country Park
Enjoy a family day out in this unspoilt stretch of lakes and wetlands, situated just outside the city. Its new playpark incorporates three separate zones of large-scale timber play equipment for toddlers, children and older children.
Ness Country Park
In the steep, wooded Glen of the Burntollet River, south-east of Derry/Londonderry, lies Ness Country park. This area consists of 55 hectares of mixed woodland along with open parkland which extends along both sides of the Burntollet River. It is also home to the largest waterfall in Northern Ireland.

There are over 7km of stunning woodland and riverside walks. Facilities include visitors centre, toilets, woodland and riverside paths, children's playpark, picnic areas and car parks.
FoylHov Activity Centre
If you're an adrenalin junkie or thrill seeker, then you'll love the array of experiences on offer at Foyle Hov.
Set a few miles off the Causeway Coastal Route and close to the River Foyle, this is one of our most beautiful rural locations.
There's plenty on offer, from hovercrafting over grass and water, using a powerturn buggy, target archery, laser clay shooting or football golf. Families, groups of friends, or work colleagues will all enjoy the range of activities in this unique setting.


Nestled in an enchanting woodland in the very heart of Northern Ireland, The Jungle is the perfect location to engage with life, and put to test your sense of daring and adventure.

The Jungle NI is a leading outdoor adventure centre offering exciting activities, events and funky accommodation suitable for all ages. Activities include high ropes tree top adventures, archery, clay pigeon shooting, coasteering, gruffalo trail, kids quad bikes, laser tag, Llama trekking, mountain biking, paintballing, Segway tours and downhill zorbing. Find out more here.
We at Oakfire Adventures are located on the outskirts of Derry and are the perfect place to visit for a fun day out. Offering many adventures, from a zip trek experience, tree trek adventure, full aerial challenge and paintballing. Find out more here.
Set at the foot of Binevenagh along the Causeway Coastal route, Carrowmena Activity Centre offers an array of activities. Try canoeing, raft building, high ropes activities, climbing wall, zip lane, archery, or even discover their maize maze. Find out more here.
Check out Far and Wild, one of the leading eco-adventure company's in the North West of Ireland. Try out paddle boarding along the River Foyle or one of their other slow adventure packages. Find out more here.
To find out more about Things to Do in Derry and Outdoor Adventures, then click here.
*Please check individual websites for the most up to date information on opening times.