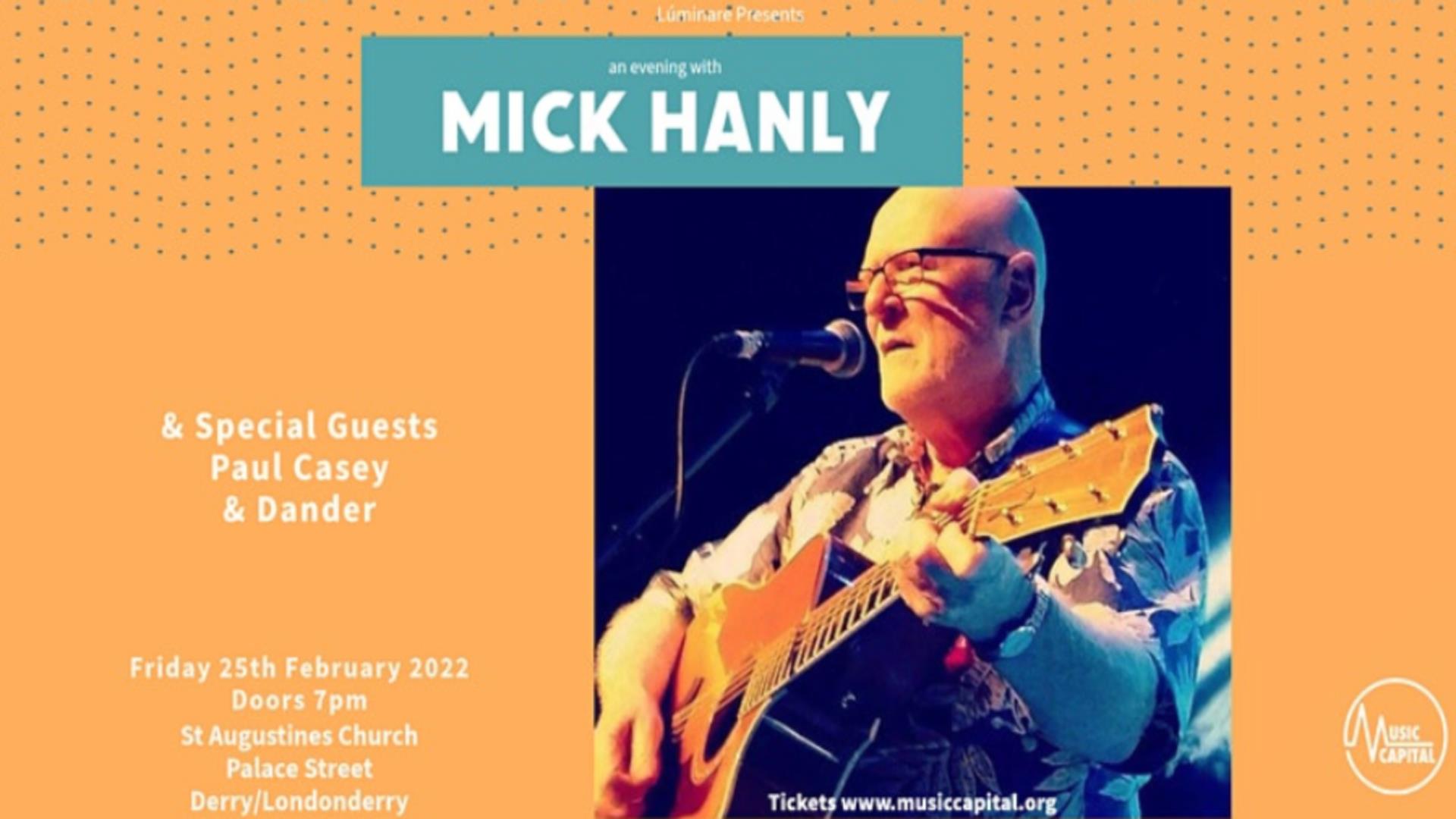 About
Lūmināre proudly presents:
Mick Hanly
& Special Guests
Paul Casey & Dander
Doors - 7pm
Price - £18.00 +bf
...............................................
Mick Hanly
Born in Limerick, singer-songwriter Hanly was inspired by mid-50s rock 'n' roll and the Liverpool beat group scene of the Sixties. He soon turned his attention to American folksingers such as, Woody Guthrie, Leadbelly, and emerging singer songwriters, Paul Simon, James Taylor and Canadian songstress, Joni Mitchell. However on first hearing Planxty he immediately fell in love with this fresh take on Irish traditional music. Together with Michael O'Domhnaill (ex Skara Brae) he formed Monroe, and supported Planxty on their 1973 tour, subsequently releasing Celtic Folkweave, before O'Domhnaill left for the Bothy Band in 1975.
Hanly went to France for two years, and, on his return to Ireland, recorded two acclaimed solo albums for the Mulligan label with Donal Lunny, Andy Irvine and Declan Sinnott….'A Kiss in The Morning Early' and 'As I Went Over Blackwater'. He then toured Ireland and Europe with Andy Irvine, who had recently left Planxty. In 1981, Hanly joined Moving Hearts as a vocalist, and contributed his own songs to the album Live Hearts. After the demise, in 1985, of one of Ireland's most successful and innovative traditional bands, he went solo again, and recorded three more contemporary albums with Ringsend Road Records. His album All I Remember spawned the song Past the Point of Rescue, which was a huge hit in the US for country singer Hal Ketchum. The song recently received the BMI award for Two Million Radio plays in the US.
Mick Hanly's songs have been covered by Christy Moore, Mary Black, Dolores Keane, Delbert McClinton amongs others, and he continues to write with a freshness and vitality that few can match.
His album Homeland, and features 10 new songs, reunited him with some of Ireland's most respected musicians, such as The Voice Squad, Donal Lunny, Keith Donald, Eoghan O'Neill, Dave Keary, Ray Fean, etc….