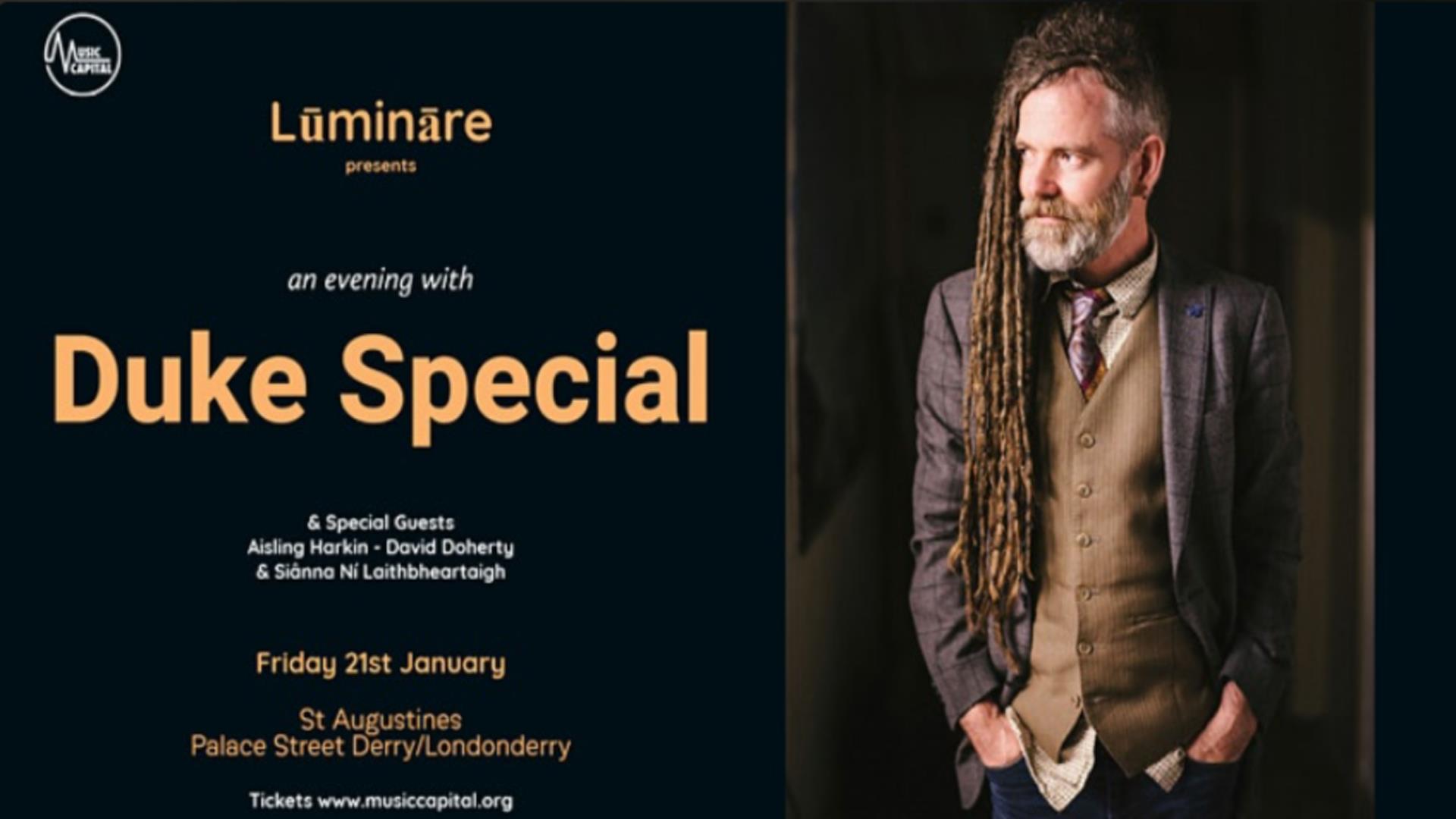 About
Lūmināre proudly presents:
Duke Special
& Special Guests
Aisling Harkin - David Doherty
& Siânna Ní Laithbheartaigh
Doors - 19:30 // Price - £20.00 +bf
•••••••••••••••••••••••••••••••••••••••••••••••••••••••••••••••••••••••
Due to the intimate nature of this show tickets will be strictly limited
•••••••••••••••••••••••••••••••••••••••••••••••••••••••••••••••••••••••
Duke Special is an artist aptly named. Dynamic, musically ambitious & bracingly eccentric, with his inimitable style and lush musicality. Hailing from Belfast with a sound that is self-confessed "hobo-chic", Duke Special - AKA the endlessly inventive Peter Wilson - is once heard, never forgotten. Blissfully at home in his own alluring genre of beautifully bruised romanticism, Duke Special inhabits a world unlike any other - a world filled with vaudeville-esque sensibility, sing-a-longs and addictive melodies .
Those who know him for the platinum album "Songs from the deep forest", including the hit song "Freewheel" and other radio mainstays like "Sweet sweet kisses" and "Last night I nearly died" may be surprised by the breadth of his work. Duke Special's immense creative talents have seen him involved in projects as diverse as writing the theme tune for Sesame Tree (the Northern Ireland edition of Sesame Street where he also got to sing with The Muppets) to writing the music for and appearing in Deborah Warner's critically acclaimed 2009 production of Bertolt Brecht's Mother Courage and Her Children at London's National Theatre. He then recorded an album of the twelve songs from the play, which was to form part of his ambitious project for 2010 - the release of a 3 CD box-set, The Stage, A Book & The Silver Screen. This box-set also included a 5-track EP called Huckleberry Finn, the first ever recording of an unfinished musical written by Kurt Weill and Maxwell Anderson based on the Mark Twain classic, and the album The Silent World of Hector Mann, featuring 12 songs based on The Book of Illusions by contemporary American author Paul Auster.