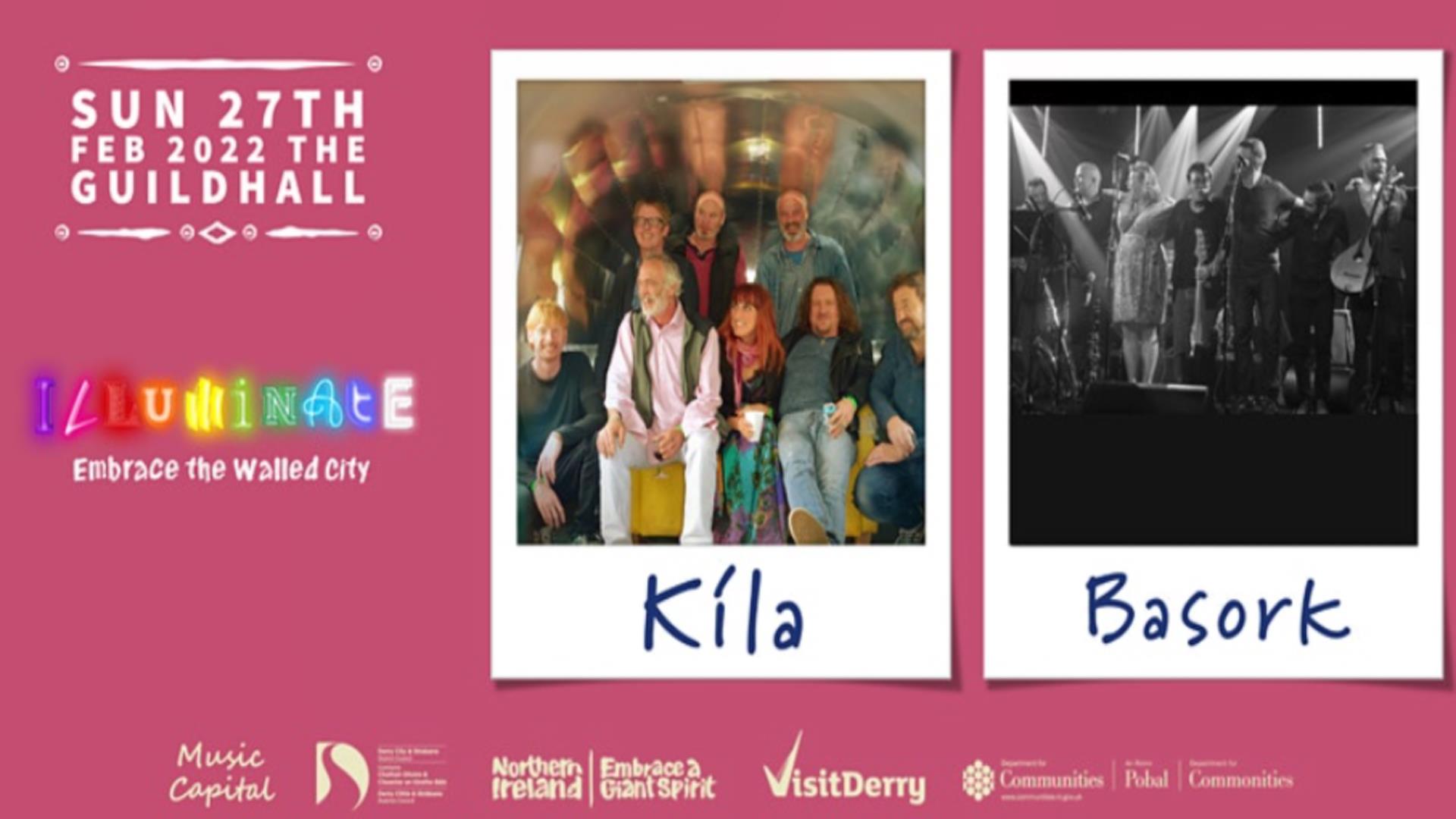 About
Illuminate Festival and Music Capital presents Kíla & Basork
Kíla...
"One of the most beautifully euphoric live experiences" BBC World Review
'Softly spoken off stage and complete lunatics on it, Kíla have torn up the rulebook with their wantonly eclectic mix of styles, Brilliant!' Hot Press
"Whatever it is... this is it. Kíla are right there at the cusp of it... Somehow you get the feeling they lit the fuse for the big bang." Bono
Before lockdown hit in 2020 Kíla had showcased at Folk Alliance in New Orleans, and were due to perform at Lá 'Le Pádraig festivals in Paris. London Dublin and Kilkenny just as the Covid-19 lockdown hit causing the cancelation of over 60 gigs. But some of the high points that years was the winning the IFTA for
Best Original Score for Tom Ó Súileabháin's feature Arracht which was Ireland's entry to the Oscar's in the foreign language film category., They finished their collaboration with composer Bruno Coulais on Cartoon Saloon's latest animated feature, Wolfwalkers which won numerous awards and was nominated for an Annie (America's most respected animation awards) for best music. To help quench the lockdown thirst for live music they recorded 6 concerts during the lockdown period culminating in a Wolfwalkers themed concert which was broadcast online and aired in all the Irish ambassadorial residencies and at Lá 'le Pádraig gatherings worldwide .
Basork... BASORK are a ten piece fusion ensemble drawing on Irish, European and Middle Eastern music as the main influences on their compositions. Brass, Strings and Woodwind combine with big melodies and lots of improvisation.