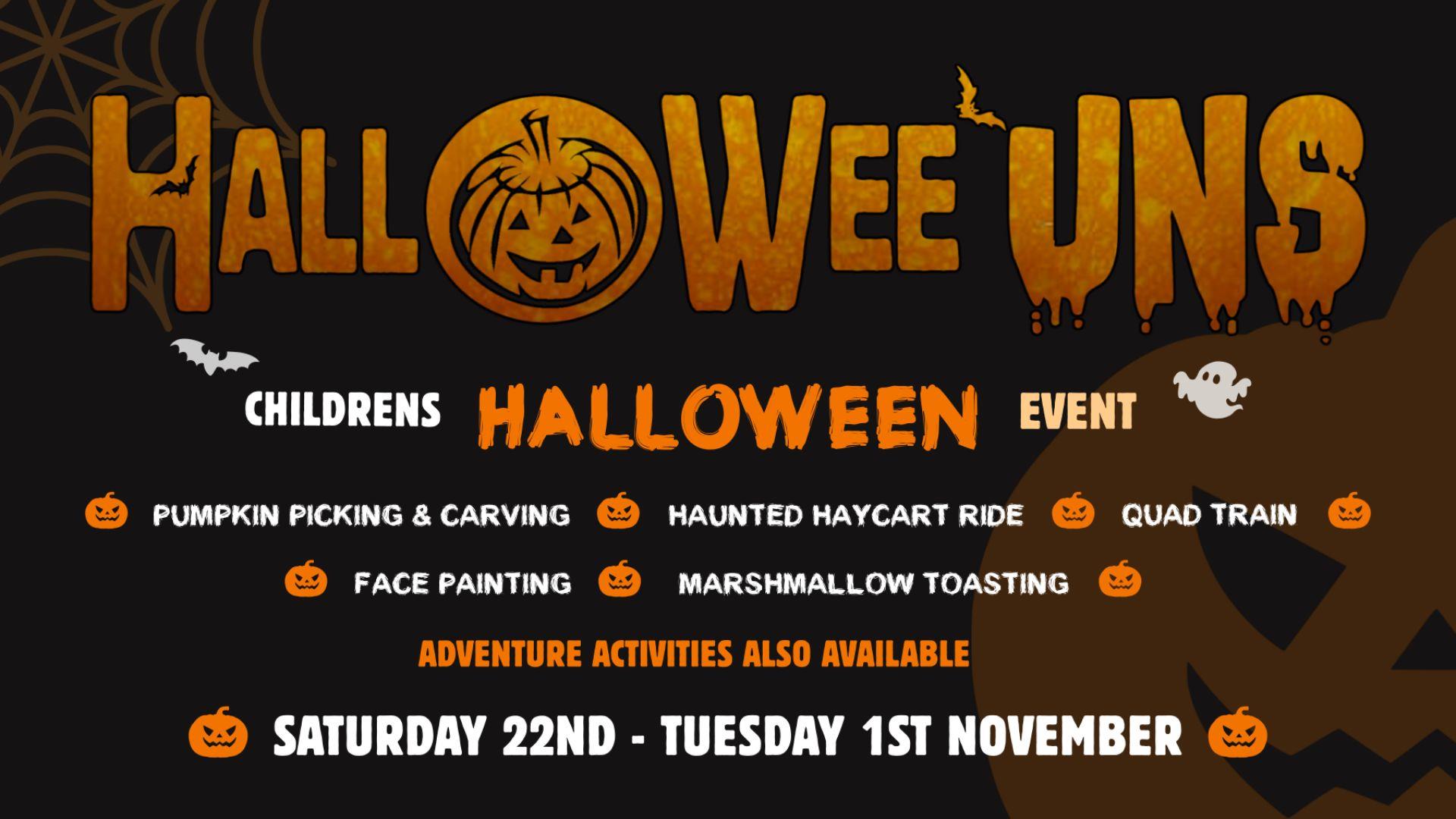 About
This Halloween season, The Jungle has conjured up some delightfully frightful ideas and we welcome you all back to our popular 'HALLOWEE'UNS' event, which is specifically for young kids and their families. Why should adults have all the fun after all?
As the spooky and haunting time of year creeps in, we would like to invite all of your little monsters along to experience a Halloween extravaganza, filled with wicked, weird and wonderful activities. During the event they will enjoy some pumpkin picking and carving, a haunting Haycart Ride with a rather wicked witch who will tell spooky stories along the way and a host of other adventure activities. We will also be giving out prizes for the best costumes, so all types of ghostly and fang-tastic costumes are encouraged.
The spooktacular event will run on Saturday 22nd October & Sunday 23rd October, then Friday 28th October right through to Tuesday 1st November.
Sessions run every 15 minutes from 10am to 12:30pm. (Park closes at 3PM)

ACTIVITIES: (EACH CHILD WILL RECEIVE 1 PUMPKIN TOKEN AND 4 ADDITIONAL TOKENS ON ARRIVAL)
Pumpkin Picking and Carving
Kids will get to pick their own pumpkin and bring it to a work station where we safely cut the top off and hand it back for them to scoop out. They will then bring it back to the work station, after drawing a scary face on it, which they would like carved. We will then safely carve out their design and return it to them to take home.
Haunted Haycart
A ghoulish journey on our haunted Haycart ride with a wicked witch's story telling session on board.
Quad Train
A Quad Train Ride around the Jungle site.
Marsh Mallow Toasting
Spot prizes for best Fancy Dress.
The 3 hours will run like a family fun day. One Token is used for Pumpkin Carving, then the other 4 can be used for any of the following Hay Cart Ride, Quad Train and Face Painting (TBC).
ALSO we'll have our favourite Kids Activities available:
Archery, Climbing Wall, Rodeo Bull, Bungee Trampolines and Paintball Target Shooting. (1 token each)

For further informattion, pleas visit https://www.thejungleni.com/event/halloweeuns/